Ben Ommundson led a team of cintiq wielding linesmen drawing our characters. Their attention to detail and flair for performance brought the charm.
The character designers however did give the animators a good start. Quickly designing seven different families for a commercial product that everyone is happy with was no easy task.
The environments are beautiful, and a character to themselves. Each spot had a different colour palette and setting.
In these 7 spots we wanted to achieve maximum quality, traditional character animation, and also feature rich, beautiful environments with beautiful car shots. 
Creating this kind of imagery from illustrations requires a stupendous amount of talent and called for a great team.
Studio: Mighty Nice
Agency: Deutsch LA
Director: Alex Weight

Executive Creative Director: Darren Price

Animation Director: Ben Ommundson

Head of Production: Gabrielle Joosten

Producer: Jane Reynolds

Head of Studio: Jeremy Howdin

Storyboards: Pete Yong

Character Design: Shane Devries

Environment Design: Chris Jones & Jason Pamment

Background Design: Kelly Wallwork

3D Layout: Charles Ewart & Lucas Michaels

Edit: Mike Singca

Motion Design: Chris Angelius & Mike Singca

Animators: Aaron McDonald, Catriona Drummond, Jeremy Carlen, Joel Williams & Richard Chhoa

2D Character Cleanup & Colour: Bonnie Forsyth

Look Development & Comp Lead: Vincent E Sousa

Compositing: Chris Angelius, Deborah Ho, Kallie Ennever & Laura Heath

Lighting & Rendering: Boris Fomin, Chuong Vu, Dominic Lau & Serge Astahov

2D Texturing & Painting: Kallie Ennever, Ling Siu & Oliver Abbot
Pollen fills the air, and the low sunlight carves a glowing path through the sky. It's beautiful! And just a little bit sneezy. Driving along country roads often encourages a few spontaneous ooh's and ah's at nature. In this case some of those ah's are more like ahCHOO's!
Our red nosed Dad is luckily behind the wheel of the new VW Passat when he starts sneezing. His explosive nasal bursts start the car veering towards another lane of traffic. Not to worry, Feature 1 of 7, Lane Assist kicks in to keep the family on track.

​​​​​​​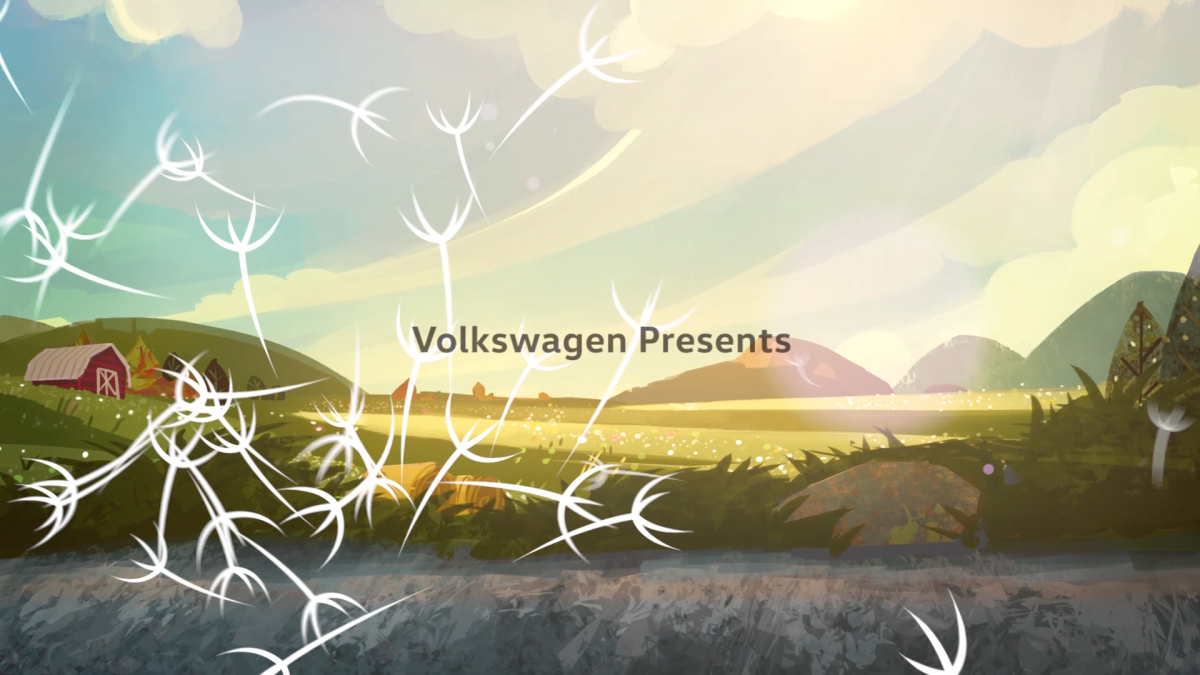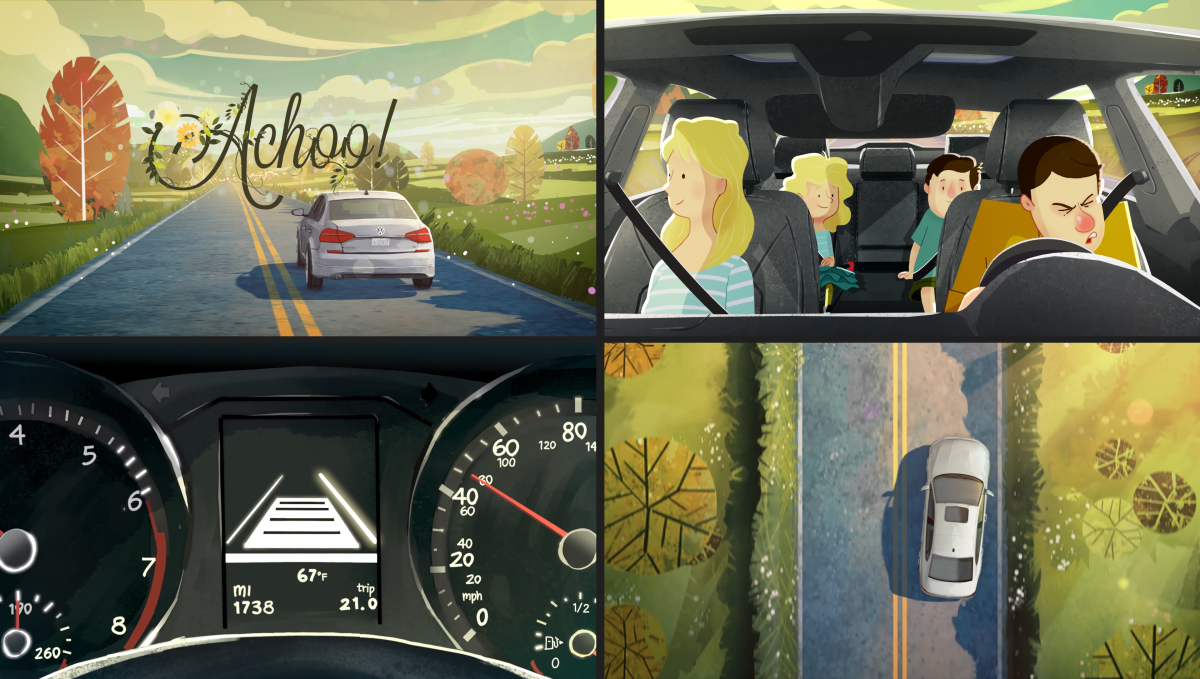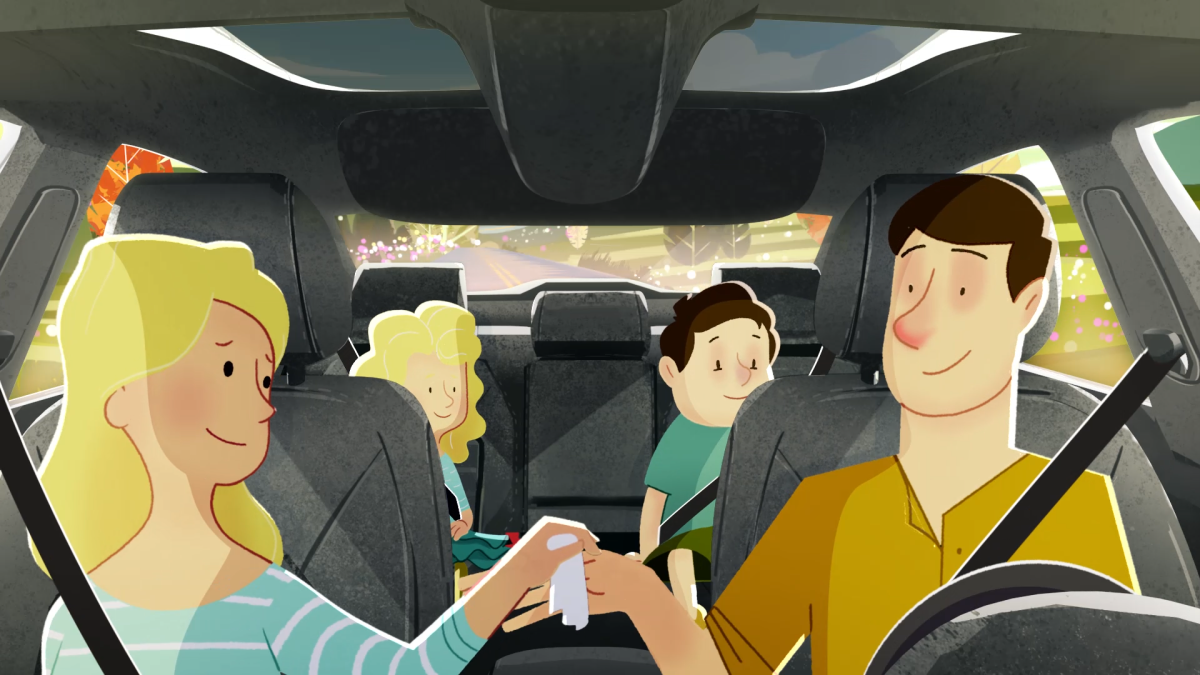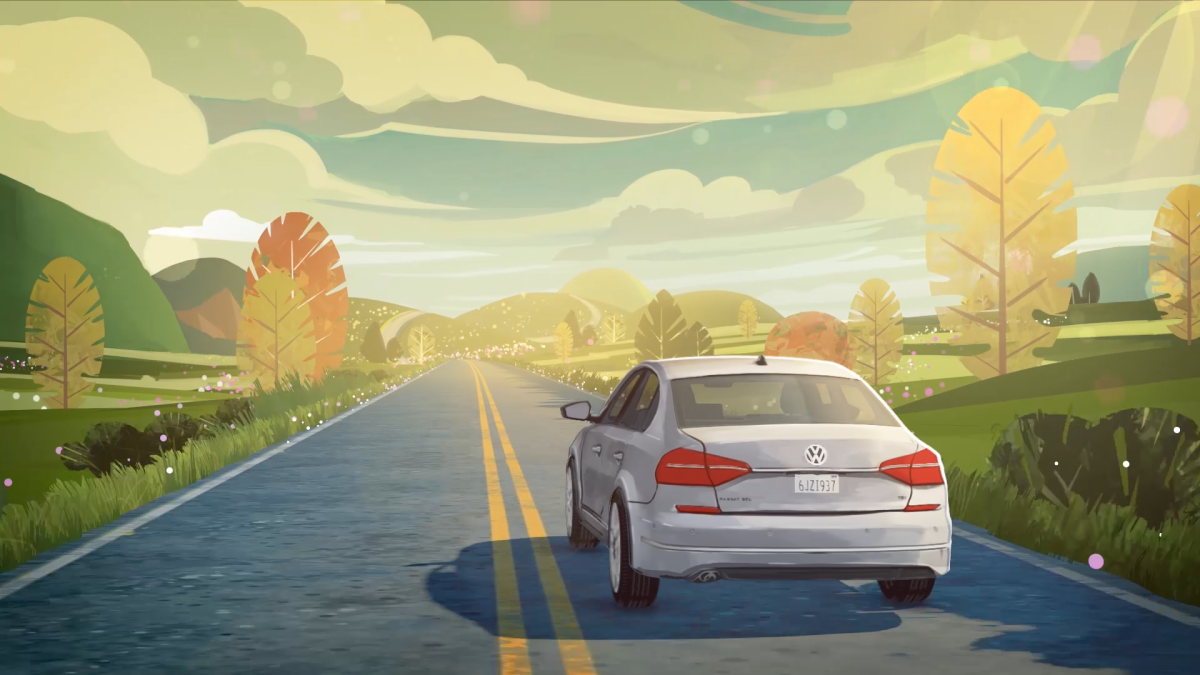 A fun day out fishing for our Bobble family sees them bopping along in time with a bobble-head toy.  A new VW Passat feature – Adaptive Cruise Control – saves the family from a car that quickly changes lanes in front of them.
We set this spot in the Great Lakes area of North America – each spot had a different colour palette and setting. This one features beautiful vistas, trickling streams and an open highway. We also added the fun character of the dog, comically huge and hairy.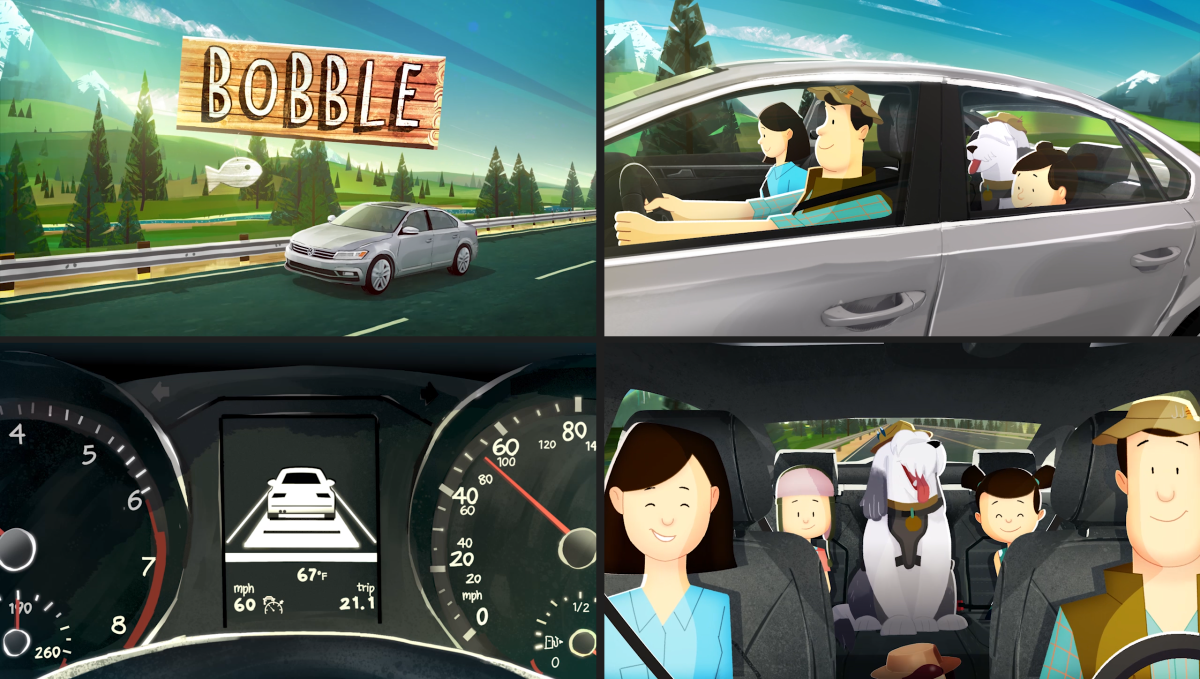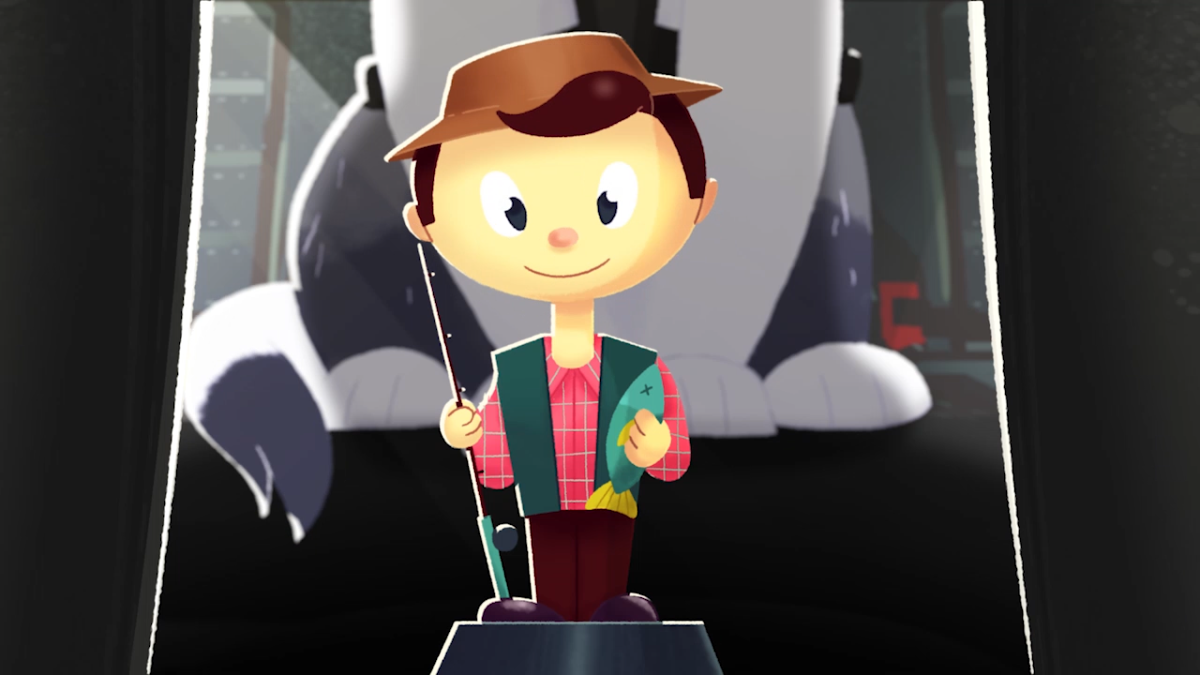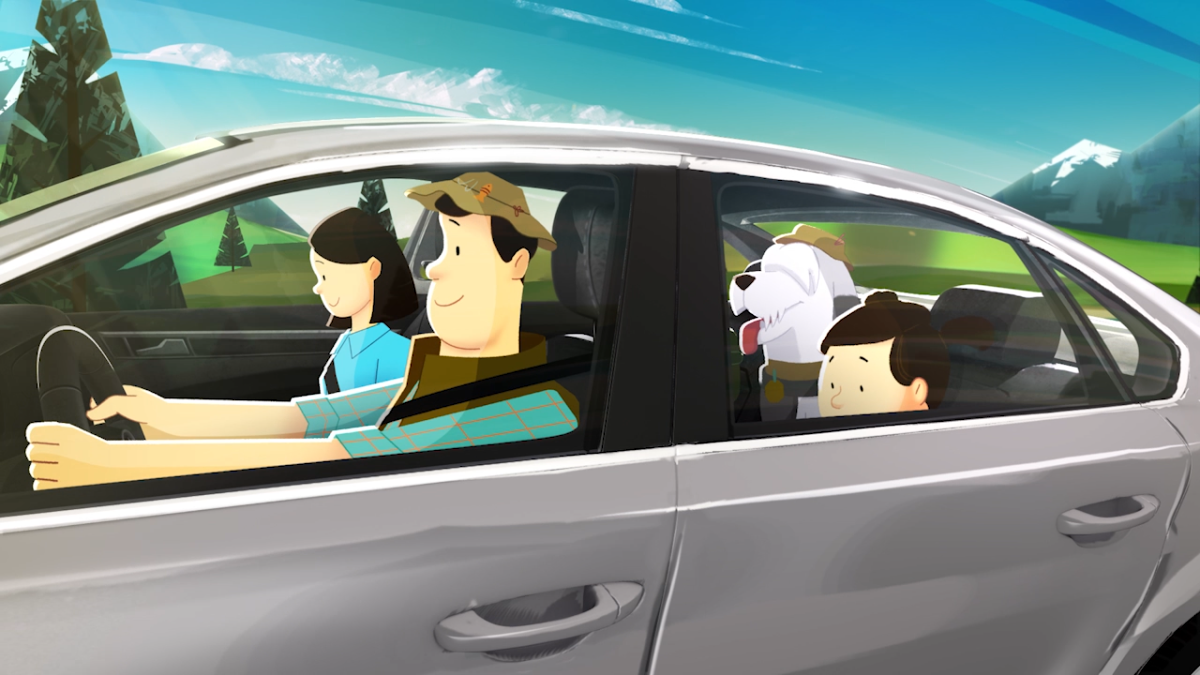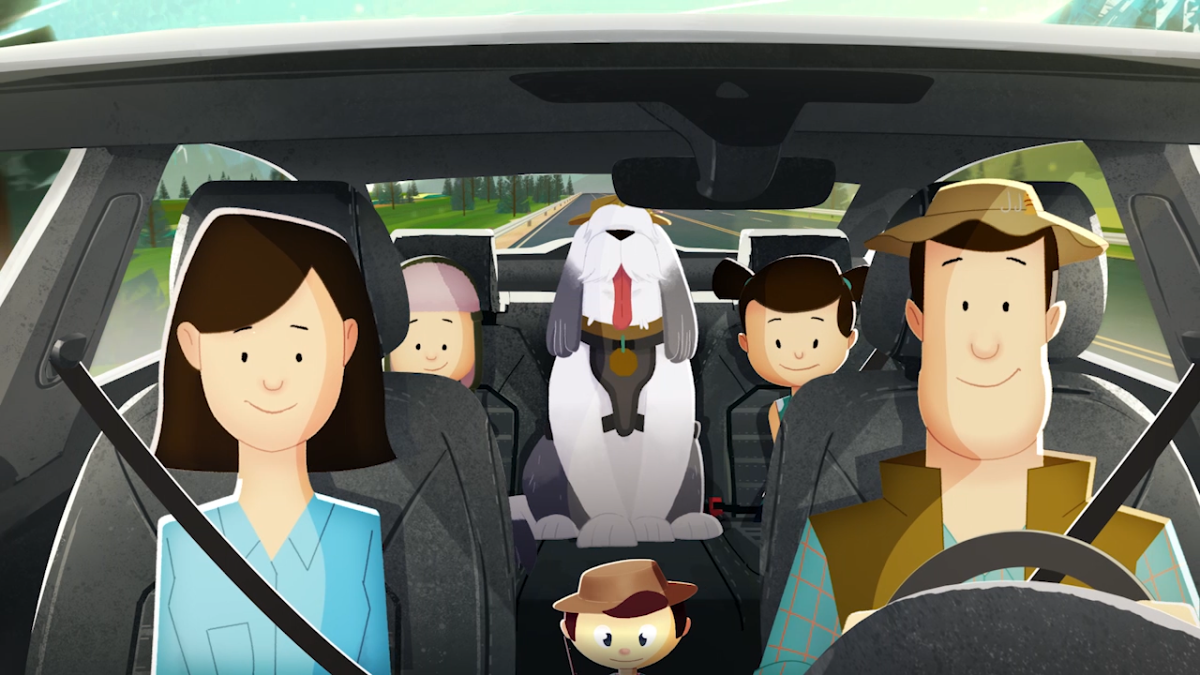 This fun spot challenged us with carwash rollers and (oh my!) bird poo! Texture, shape, movement… we went into deep thought about both. The fantastic seagull went through multiple design changes as we tried to pin down his modus operandi & character, finally settling on 'good-hearted'.
That shiny, sparkley car feeling is dashed by a rogue bird, but oh no – look out! – there's more trouble ahead. Our LOL family are saved by the VW Passat's new Forward Collision Warning feature.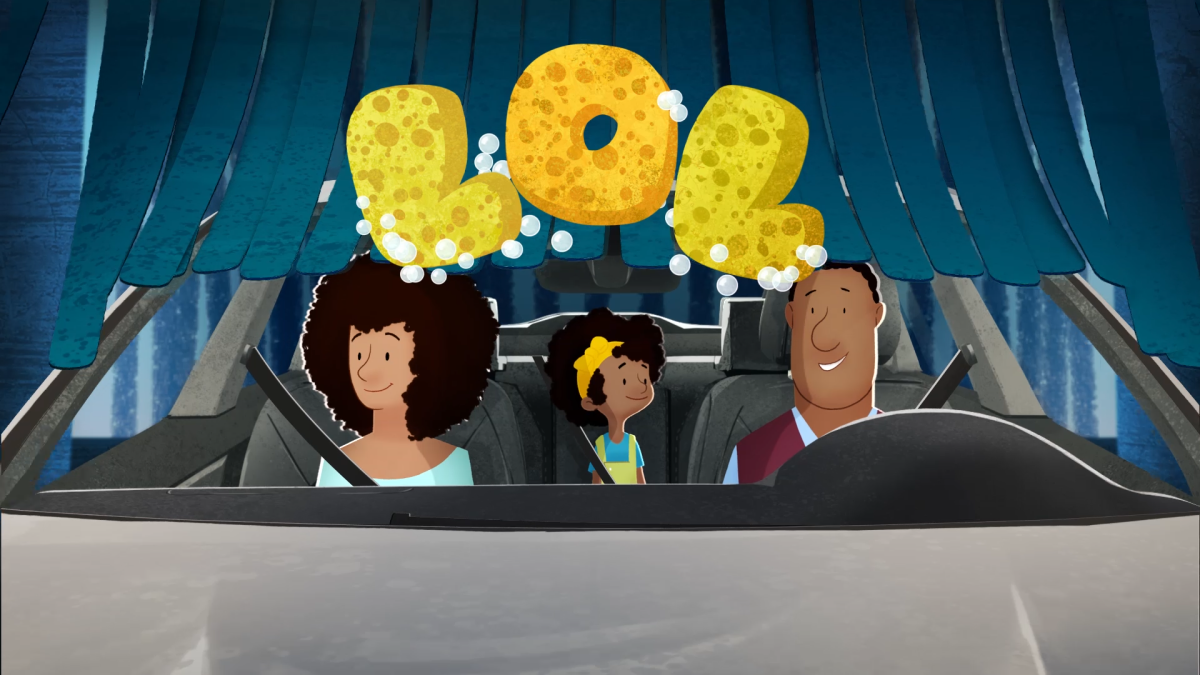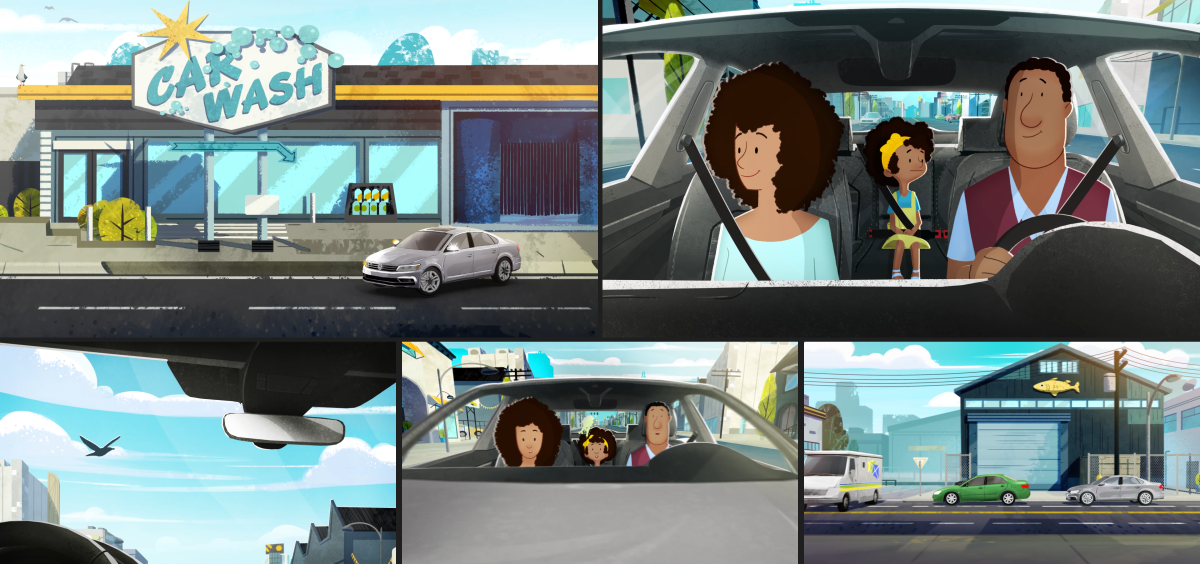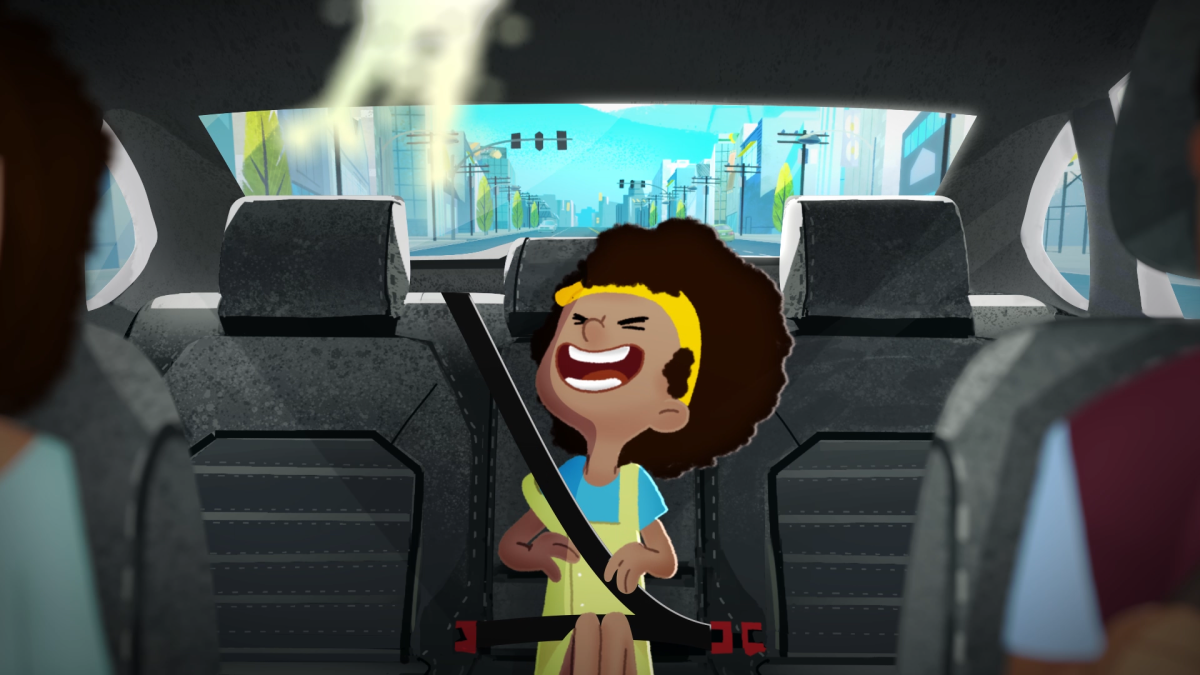 Dad's new VW Passat has a very magnificent feature – Park Assist. Watch his kids' amazement as at a touch of a button the car magically parks itself!
Our wizards of art conjured some beautiful imagery for Ta-Da. Starting with an autumnal New York street, featuring rows of brownstones and some ornate ironwork. Casting a caring Dad and trickster kiddo, we were soon ready to show-off the magic that is Park Assist – one of the 7 new VW Passat features.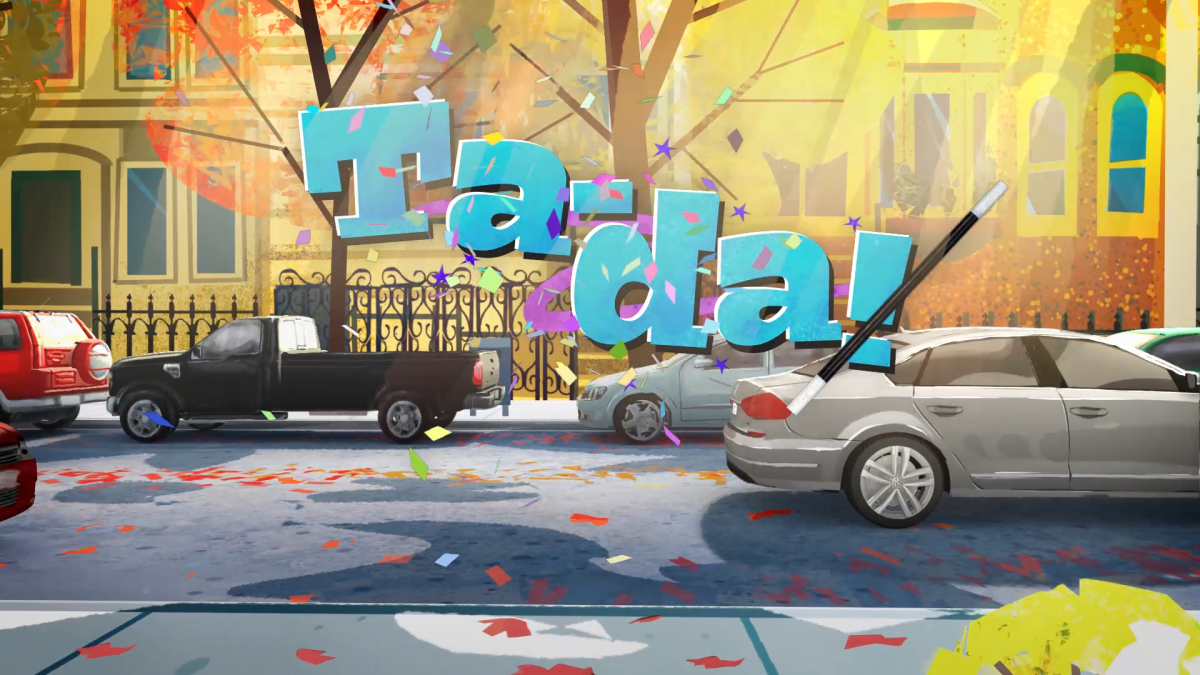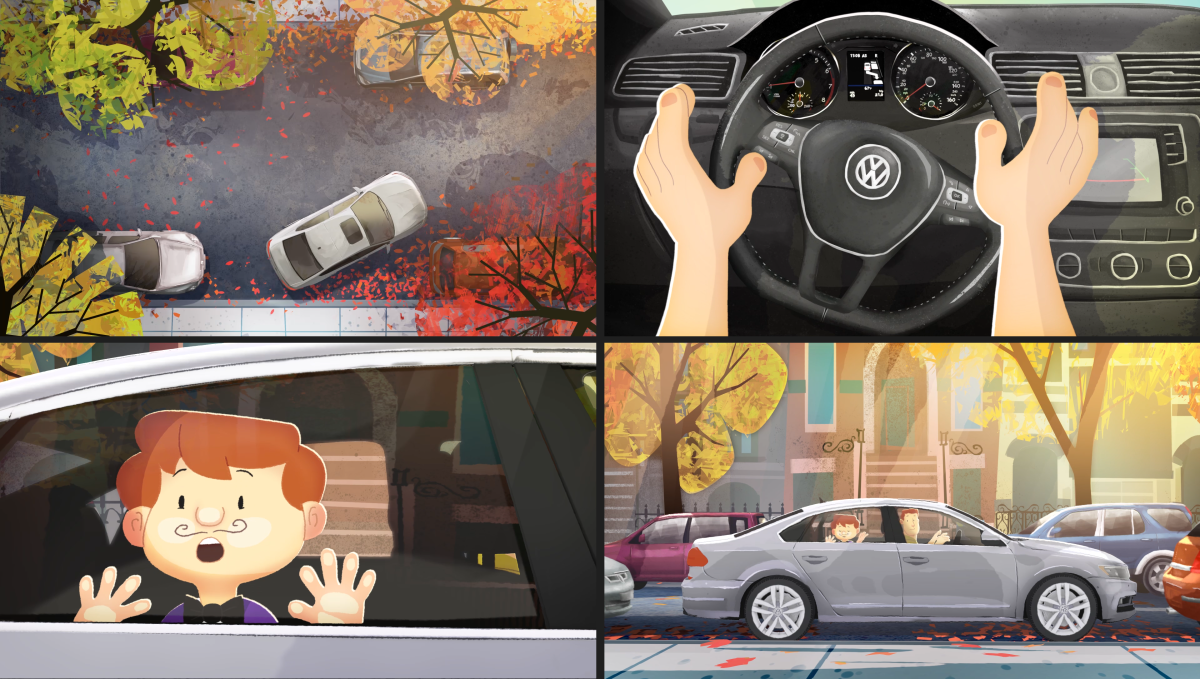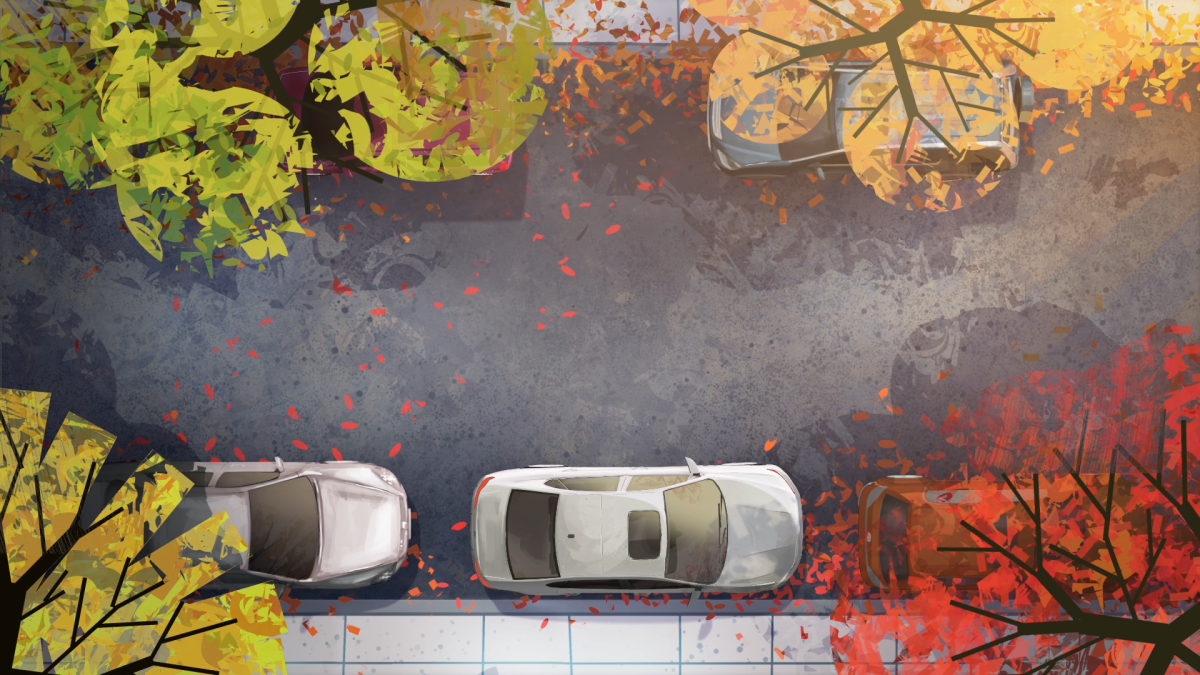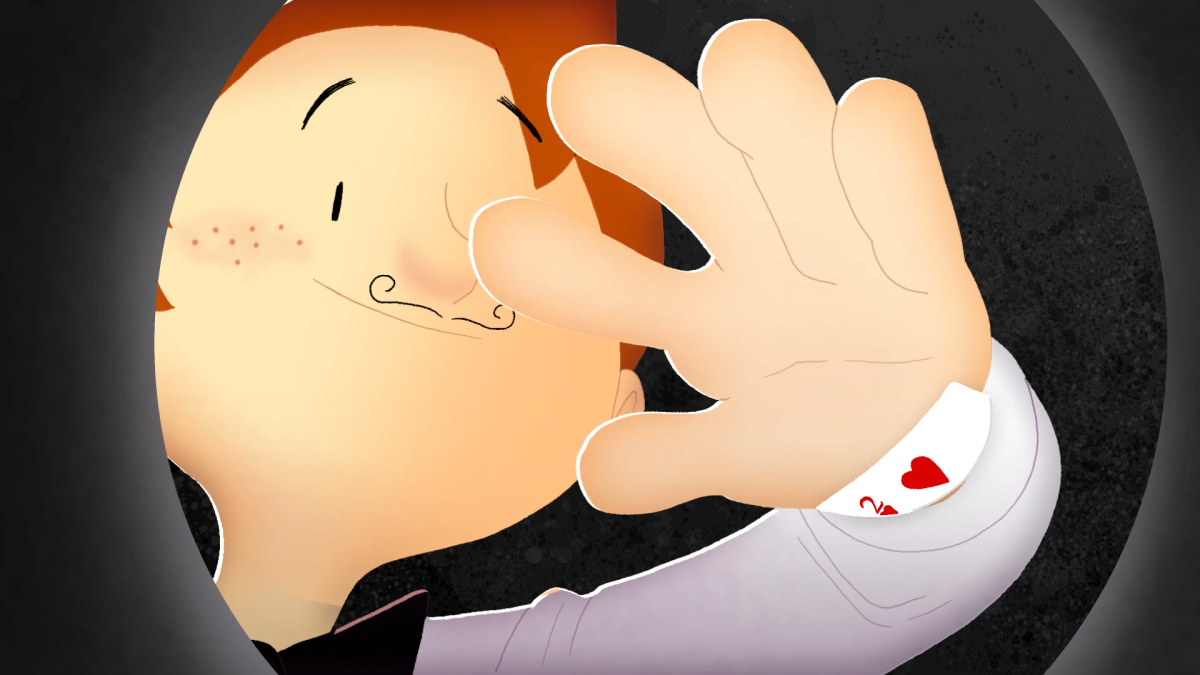 A crisp, fresh morning for a boy's big game. But its not the result he was hoping for… Dad is trying to cheer him up, but its the sister who finally succeeds. Some quick flashbacks for the family motto sequence has them bonding…but a little distracted. Narrowly avoiding a collision with a speeding truck, the family are saved by a new VW Passat feature – Rear Traffic Alert. Sometimes look back!
From Chris's great environment designs and Shane's character work we were strong from the starting whistle. Add to the winning mix a crack 2D team under the leadership of Ben and the Comping Crew under Vincent, and we were well on the way to the championships.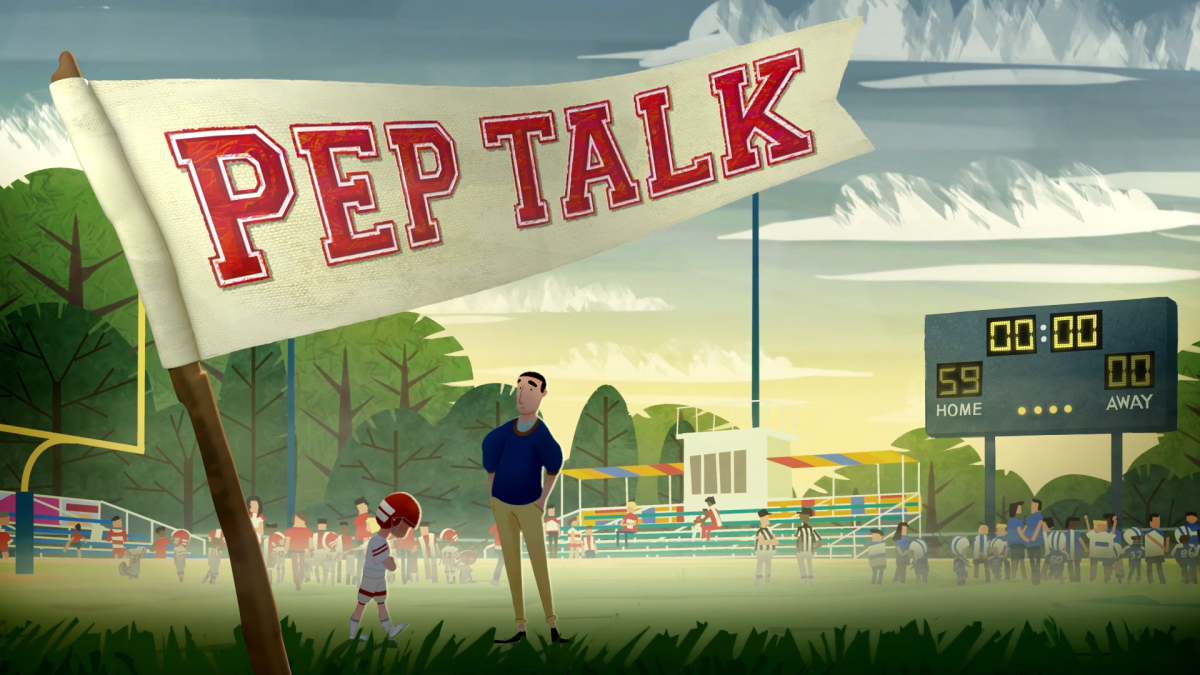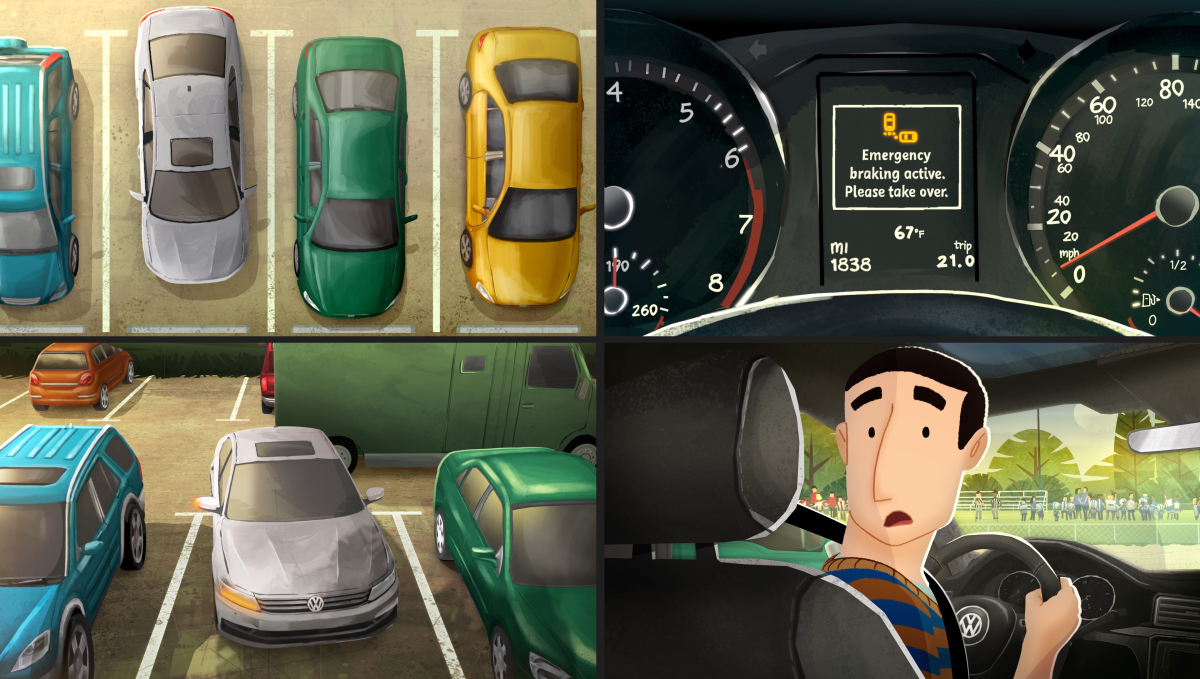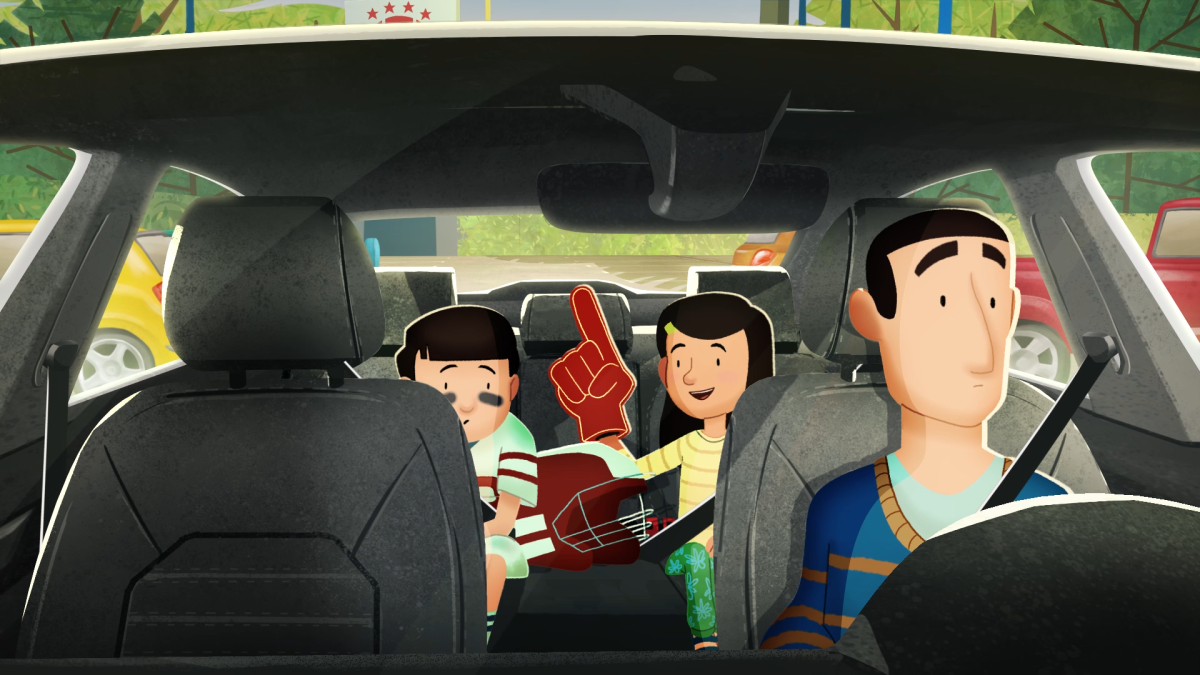 We all know those crazy mornings – rushing to get out… but what happens when you've been blocked in by your neighbours?

The morning rush is hard at the best of times – but when you've been parked in too the VW Park assist will save the day. No problem too big for this super-mum!
We set this spot in Venice Beach, California. Glorious aqua and golden hues, a canal is nearby, palm trees & sunshine. Each spot had a different colour palette and setting. The art direction and design are superb from Chris, Kelly and Jason.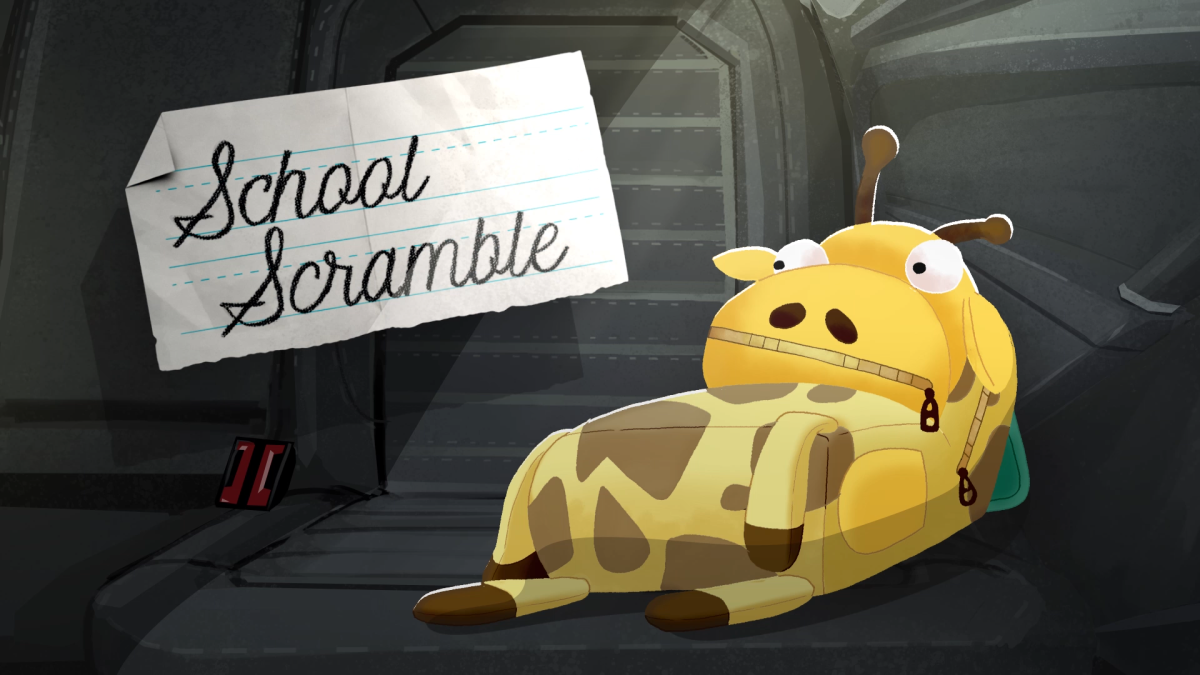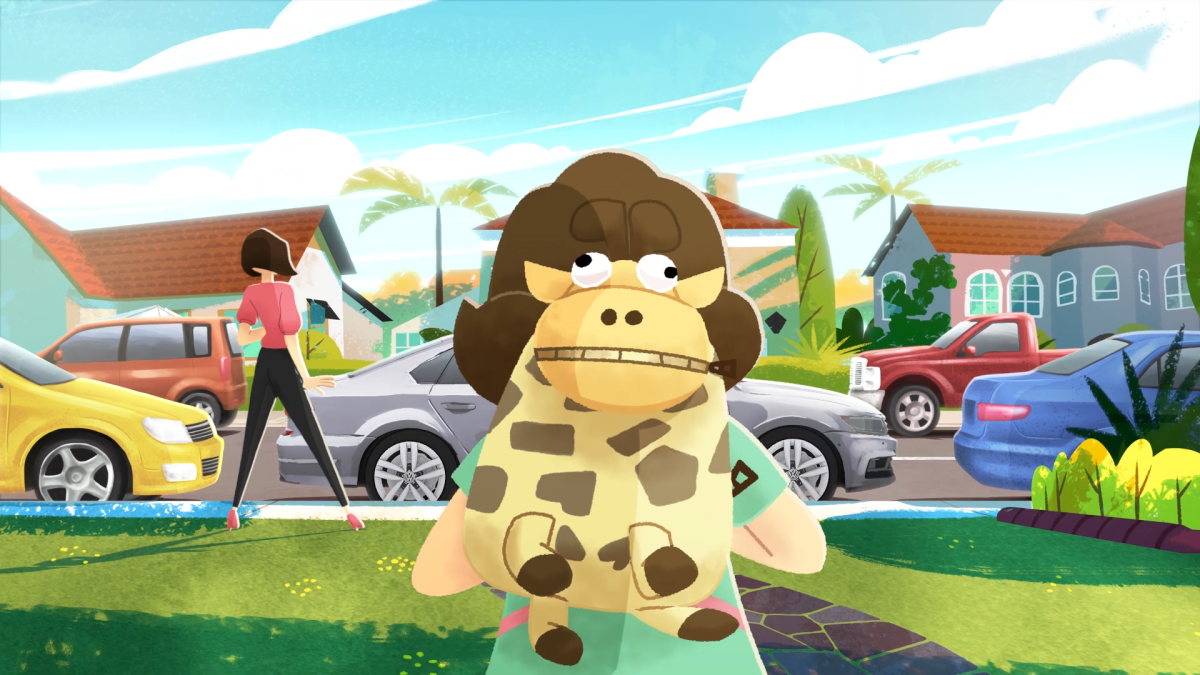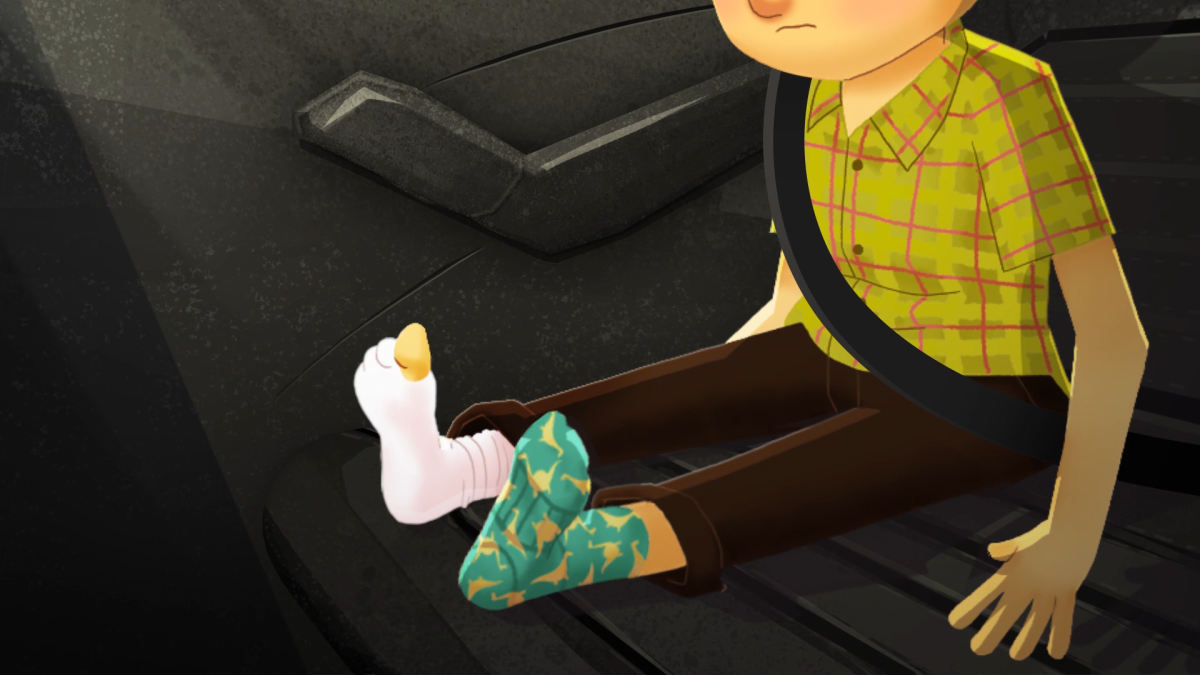 Animating 'The Meat Sweats' was a career first for all of us here at Mighty Nice. Luckily we have some great BBQ joints nearby so the R&D was no sweat.
We wanted a New Mexico desert at dusk feel for this piece. We are stoked with the colour palettes Chris created – the isolation of the vast area of America has been captured beautifully.
Headlights, street lights, dashboards, even a setting sun… this dusk into night spot presented some lighting challenges for Vincent and Nav, who both handled them with ease. The whole team came together to make sure our Barbecued family were safe for another night.
After feasting at their favourite restaurant, our Barbecued family start the long drive home. Soon Dad is having The Meat Sweats and needs to pull over to rest, only after narrowly missing a passing car – saved by his Blind Spot Monitor.